Inverter *1

PMA *2

Control Panel
Pure Sine Wave Comparable to Utility Power
*1
High Quality, Pure sine wave electrical output perfect for sensitive equipment like computers and TVs, as well as inductive load like pumps.
Also suitable as a residential standby generator.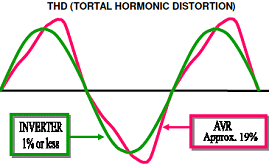 Tight Voltage & Frequency Regulations
Conventional gens show prominent voltage drop, around 5%, between no load to rated load, whereas SHX8000Di's drop is within 1%.
Conventional gen's frequency fluctuates, most notably under inrush loads, by around 5%.
SHX8000Di on the other hand maintains perfectly stable frequency.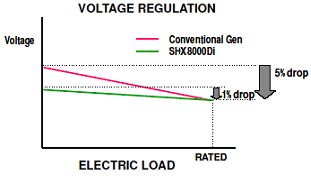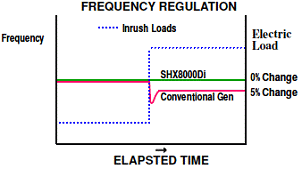 Variable Speed, Load-matching, Operation
Engine speed changes variably in proportion to load demand, contributing to low fuel consumption and minimizing noise level.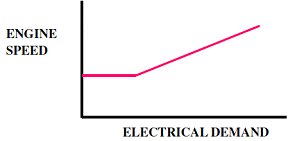 Permanent Magnet Alternator
*2
PMA(Permanent Magnet Alternator), concentrating SAWAFUJI's state of the art winding technologies, achieves alternator size 60% smaller compared with a conventional, fixed-speed alternator, contributing to substantial decrease in weight and size.
Directly mounted on the flywheel and comes with no bearing and brush, the PMA is virtually free from troubles caused by worn parts.
Boost Button
Increases engine speed and minimizes voltage drop during motor starting.
Multi-Display by LED
Shows rpm, cumulative running hours, and error messages for self-diagnostics.
Terminals for ATS (Automatic Transfer Switch)
When connected with ATS, the generator auto-starts when utility power fails.